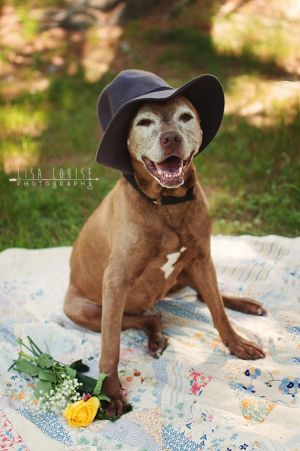 Size: Large

Age: Senior
Gender: Female
Options:
Has Shots
No Dogs
Spayed/Neutered
No Cats
Not Known
Description:
Look at that face!  Sadie m'lady is an absolute sweetheart.  She came to us locally after her owners moved out of their apartment and just left Sadie behind.  A kind person was feeding Sadie once a day and letting her out briefly, but she needed a place to go and Canine Commitment stepped up to help.  As you can see from the wise face, Sadie is no spring chicken -- she is about 10 years old.  She is in good health, all vaccines are up to date, she is heartworm negative, and she still has plenty of spring in her step!  We do not suspect that she does well with other dogs, and are looking for a home without other animals. What she lacks in love of her own kind, she makes up ten-fold in love of humans -- all sizes and shapes!  She is also just about the best mannered car riding dog I have ever had in my car -- so polite and interested in what's going on outside the window.  She sits calmly and doesn't jump around at all!  (She loves riding to school with us in the morning.)  We don't believe she has ever been crated, but given her space she is not destructive at all.  She does prefer to have people with her, probably a side effect from being abandoned and alone for so long in the apartment, so we would love a home where someone works from home or is retired.  She spent the night in my house on a sleepover and was perfectly behaved (and oh so happy to sleep with us on the bed!), giving us every faith that she is housetrained.  She didn't touch a single toy or other thing in the house -- she just wanted to be next to us and snuggle.

If you think you can give Sadie the end to her life that she deserves, please contact ross@caninecommit.org.  Her adoption fee has been sponsored totally by folks who love her and just want to see her in a loving, permanent home.  


A bit more information that you might find helpful:

YES, this dog is here in New Hampshire.  Canine Commitment does not post any dogs as available until they are here, in NH, and available to meet before committing to adopt.

Canine Commitment has two licensed shelter locations (at our private residences) in the state of NH, abiding by all state and federal import and quarantine laws. We are a 501c3 not-for-profit organization run by volunteers who just want to help save some lives.  

More questions?  Please check out our Adoption FAQ on our website at www.caninecommit.org.

Join us on Facebook for more photos and to join our community of dog lovers!  https://www.facebook.com/caninecommitmentnewengland

Thank you for looking and considering rescue!!!