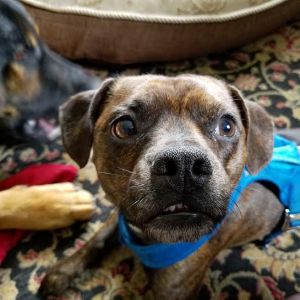 Size: Small

Age: Adult
Gender: Male
Options:
Has Shots
Spayed/Neutered
Description:
Foster update on Yaz! 5/15/17
It's day 12 and here's what I know! - Yaz is awesome - he loves toys, food and praise,  triple threat training wise
- bossman bosses dogs his size and smaller and puppies of any size (I think, but we haven't met any mastiff puppies yet ??)
- Yaz is easily redirected and really responds to leadership when offered,  from myself or Norm or other solid dogs. - he fetches petty much naturally it seems which is pretty cool
- not a yappy dog,  will alert bark but chills out with direction
- getting better about waiting to be invited up on your lap
-not sure how he is with kids yet,  haven't met any,  my instict says older kids he'd be great with and younger ones might get him over excited but,  like with most things,  training would help with that
- he has an almost reddish tint to his coat,  he's gorgeous
- wicked athlete,  can jump high enough to look you in the eye,  can climb up everything so far
-confident little man,  sometimes over confident
- loves to snuggle under blankets
- hangs with giant dogs no problem
- very quick learner
- mouthy,  I've felt teeth but never an actual nip,  he's learning
- awesome in the crate
- ok in the car if only harnessed in,  better in a crate,  been doing crate to the park,  harnessed in after when he's tired
- knows sit,  getting pretty good with wait,  down is a pain with little dudes and I've made zero progress there,  place is in the works
-sleeps through the night
- no accidents so far -best half of an underbite ever
-good with having his ears,  face and feet played with
- not a fan of baths
-fits under the bed
-15lbs, 11" at the shoulder
- will be with me until a worthy home pops up because he's fantastic and quirky.

Yaz is a gorgeous, big personality, two year old energetic dog in a tiny package with the best underbite ever. He loves playing with toys and fetch. So far he has sit pretty solidly. He hasn't had any accidents in the house, does very well in his crate, doesn't get into things around the house and he's working on his leash skills. He would do well with dog savvy kids who wouldn't encourage jumping or get him over excited. 
If you're looking for a very athletic and trainable dog he's your guy. Agility would be a blast. Yaz does great with big dogs,  male or female.  But he gets a little bossy with dogs his own size. He takes correction and redirection very well and has several successful, structured introductions with little dogs so far. Soon after he's playing freely with them.
Yaz is smart and learns quick,  especially that getting on the furniture or your lap requires an invitaion. He's a great dog that would love hiking, training and playing with you. It's hard to judge in photos, but Yaz is about 15 pounds. 
Yaz is neutered, up to date on vaccines, and microchipped. His adoption fee is $425. Applications available through our website at www.caninecommit.org. 




Questions about this dog should be directed to melissa@caninecommit.org.  Thank you!

A bit more information that you might find helpful:

YES, this dog is here in New Hampshire.  Canine Commitment does not post any dogs as available until they are here, in NH, and available to meet before committing to adopt.

Canine Commitment has two licensed shelter locations (at our private residences) in the state of NH, abiding by all state and federal import and quarantine laws. We are a 501c3 not-for-profit organization run by volunteers who just want to help save some lives.  

A NOTE ABOUT HOUSETRAINING:  We can tell you about our experience with a dog in our homes and in the fosters' homes down south (prior to arrival in NH).  Please keep in mind that we do this with a lot of pups -- dogs go directly outside when they come out of their crates and usually are not given free range in our homes without supervision.  ANY dog may need time, patience, and consistency to learn your home, your routines, and your expectations of them.  Be patient, buy a bottle of carpet cleaner just in case, and give this new relationship some time and TLC.  Most pups have been in at least three locations prior to going to your home.  They may be confused, unsure of themselves, and looking for cues ... and understanding.  They are living, feeling beings who should not be expected to be perfect instantly. (Sometimes, they are.  Bonus!)

A NOTE ABOUT LEASH WALKING:  In our homes, the pups are in fenced areas. In most cases, volunteers have walked the adult, larger dogs at some point and we have some information from them about the dog's behavior on leash.  Most often, we do not.  Our experience with them on leash is limited to transfers to/from the car, into/out of the vet's office, etc.  Some dogs behave just the way they do in group settings when they are on leash.  Other times, they do not. Do not ask too much of a new, adult dog in your home.  Give them time to adjust before introducing them to other dogs.  Introduce them slowly and with forethought (feel free to ask us for some resources -- we are happy to provide those!).


More questions?  Please check out our Adoption FAQ on our website at www.caninecommit.org.

Join us on Facebook for more photos and to join our community of dog lovers!  https://www.facebook.com/caninecommitmentnewengland

Thank you for looking and considering rescue!!!