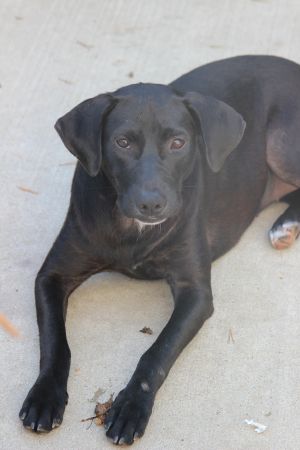 Size: Medium

Age: Young
Gender: Female
Options:
Has Shots
Spayed/Neutered
Not Known
Description:
Bowie is one of those pups who is beyond sweet and looks at you with eyes full of hope and just a twinge of worry. We don't know what happened to her before she was dumped in MS, but she came into rescue a few months ago spending time with a foster in MS first, then another foster here in NH.  Here in NH, she learned to live in a house, get used to family life, and relax a bit before we posted her.  She is ready, ready, ready to tackle her happily ever after now!  She will do best in a home with another dog, as she loves to play and another, confident dog will help her own confidence.  She is an easygoing girl who loves people of all sizes, but has not lived with very young kids.  She is just about a year old now, spayed, up-to-date on core vaccines and on heartworm and flea/tick preventatives. Her adoption fee is partially sponsored and is just $250.  Applications can be found on our website at www.caninecommit.org.  Questions about our process first?  Just click on Adoption FAQ.  

Questions about this dog should be directed to ross@caninecommit.org.  Thank you!

A bit more information that you might find helpful:

YES, this dog is here in New Hampshire.  Canine Commitment does not post any dogs as available until they are here, in NH, and available to meet before committing to adopt.

Canine Commitment has two licensed shelter locations (at our private residences) in the state of NH, abiding by all state and federal import and quarantine laws. We are a 501c3 not-for-profit organization run by volunteers who just want to help save some lives.  

A NOTE ABOUT HOUSETRAINING:  We can tell you about our experience with a dog in our homes and in the fosters' homes down south (prior to arrival in NH).  Please keep in mind that we do this with a lot of pups -- dogs go directly outside when they come out of their crates and usually are not given free range in our homes without supervision.  ANY dog may need time, patience, and consistency to learn your home, your routines, and your expectations of them.  Be patient, buy a bottle of carpet cleaner just in case, and give this new relationship some time and TLC.  Most pups have been in at least three locations prior to going to your home.  They may be confused, unsure of themselves, and looking for cues ... and understanding.  They are living, feeling beings who should not be expected to be perfect instantly. (Sometimes, they are.  Bonus!)

A NOTE ABOUT LEASH WALKING:  In our homes, the pups are in fenced areas. In most cases, volunteers have walked the adult, larger dogs at some point and we have some information from them about the dog's behavior on leash.  Most often, we do not.  Our experience with them on leash is limited to transfers to/from the car, into/out of the vet's office, etc.  Some dogs behave just the way they do in group settings when they are on leash.  Other times, they do not. Do not ask too much of a new, adult dog in your home.  Give them time to adjust before introducing them to other dogs.  Introduce them slowly and with forethought (feel free to ask us for some resources -- we are happy to provide those!).


More questions?  Please check out our Adoption FAQ on our website at www.caninecommit.org.

Join us on Facebook for more photos and to join our community of dog lovers!  https://www.facebook.com/caninecommitmentnewengland

Thank you for looking and considering rescue!!!